HEAD acoustics NVH Simulator User Group Meeting: Exchange Between Experts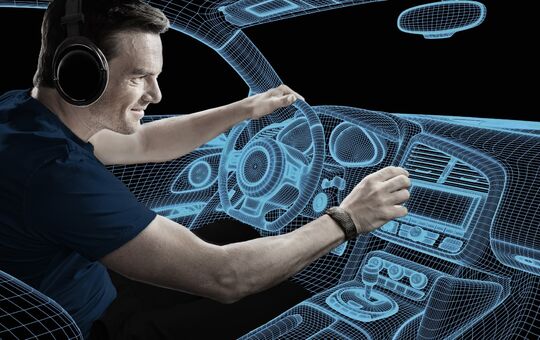 Following immediately on the 13th Aachen Acoustics Colloquium (AAC), HEAD acoustics hosts the exclusive User Group Meeting on the PreSense NVH Simulator, the interactive tool for virtual engineering and prototyping.
On November 24, 2022, participants have the opportunity to share their experiences, exchange ideas, get to know the HEAD acoustics solutions' application potential and strengths, learn about trends in automotive NVH simulation, and help shape future developments in direct exchange with the NVH Simulator team.
They can also look forward to insightful and inspiring presentations by PreSense users from Honda, Mercedes Benz, Toyota, and Volkswagen about how they use HEAD acoustics' NVH Simulation tools to work toward a development without prototypes.
Live and online demos include various applications of HEAD acoustics PreSense variants (SoundSeat, SoundCar, Mobile Simulator, Desktop Simulator, …):
TPA results from a Hybrid Powertrain
Active Sound Design for Electric Vehicles (EVs)
Simulation data (CAE)
3D audio of notification and warning sounds
Prof. Dr.-Ing. Klaus Genuit, Founder and Managing Director at HEAD acoustics, will open the event and welcome the participants. Dr.-Ing. Bernd Philippen, Product Manager at HEAD acoustics, will lay out the NVH Simulator roadmap, which is our contribution to the Digital Twin and Dr.-Ing. Aulis Telle, Managing Director SVP, will give a summary and an outlook.

The perfect topic, location, and time

The NVH Simulator User Group Meeting will take place at the HEAD acoustics headquarters in Herzogenrath on November 24, 2022, directly after the Aachen Acoustics Colloquium (November 21-23, 2022, in neighboring Aachen) – an excellent opportunity to attend both events. Of course, online participation in the HEAD User Group Meeting is also possible. Participation in the User Group Meeting is free of charge!
Preliminary agenda:
Customer Study in a Driving Simulator with Enhanced Noise and Vibration, Honda
ViCA - VIRTUAL CAR ACOUSTICS: Virtual Driving Experience, Mercedes Benz AG
Sound Optimization Tool for Sound Engineers: Case Study with HIL Environment, Toyota
From Test Rig to Road: Experience Virtual Powertrain Integration, Volkswagen AG
Future Insights of PreSense: A Way to a Digital Twin, HEAD acoustics GmbH
The final program will be available and sent to registered participants together with further information in due time before the User Group Meeting.
We are looking forward to seeing you in Herzogenrath on November 24!
---
Documents
HEAD acoustics GmbH是全球领先的声音和振动分析解决方案供应商之一。我们在开发用于测量、分析和优化语音和音频质量的硬件和软件,以及客户订制解决方案和服务方面拥有专业的技术和开拓进取的精神,因此在电信领域获得全球认可。HEAD acoustics的服务范围涵盖技术产品的声音工程、环境噪声调研、语音质量工程、咨询、培训和技术支持。HEAD acoustics 位于亚琛附近,在中国、法国、印度、意大利、日本、韩国、英国、美国设有子公司,并在全球拥有众多销售合作伙伴。