New artificial head for low noise measurements of ANC headphones and more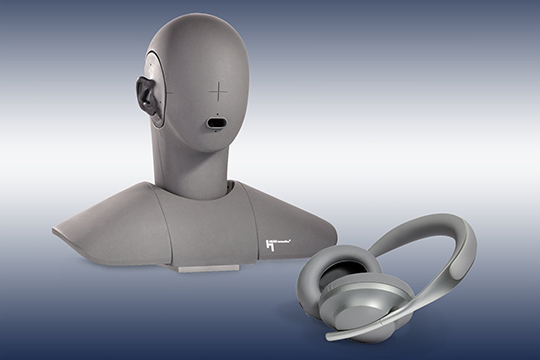 HMS II.3-LN for close to the ear sound sources – Low inherent noise of 16 dBSPL(A)
Measuring very low signal levels like idle noise of Active Noise Cancellation (ANC) headphones requires highly accurate measurement equipment. With HMS II.3-LN (Low Noise), HEAD acoustics is launching a new artificial head that is suitable for low noise measurements of close to the ear sound sources. Ear simulators with highly sensitive microphones assure a very low inherent noise of 16 dBSPL(A) of the binaural artificial head measurement system. Therefore, it is ideally suited to assess the quality of ANC headsets and headphones as well as other close to the ear audio and telecommunication equipment. HMS II.3-LN complies with the international standard ITU-T P.58 and is based on the standards ITU-T P.57 and IEC 60318-4.
"When evaluating the quality of ANC devices, the idle noise should be considered, since this can be disturbing for the user. HMS II.3-LN was specially developed to meet this challenge and is currently the only system on the market that enables precise measurements even at low signal levels", explains Dr. Hans W. Gierlich, Managing Director Telecom at HEAD acoustics.

Also suitable for medium and high level measurements
Due to its maximum sound pressure level of 149 dBSPL HMS II.3-LN is also suitable for medium and high level measurements. The ear simulator covers the complete human hearing range. The new artificial head is equipped with a two-way mouth loudspeaker capable of fullband measurements. The transmission range in sending direction is from 50 Hz to 20 kHz and in receiving direction from 3 Hz to 20 kHz. Like all artificial head measurement systems from HEAD acoustics, HMS II.3-LN can be optimally controlled via the measuring and analysis software ACQUA. The equalization is comfortable and automated.
---
Documents
HEAD acoustics GmbH是全球领先的声音和振动分析解决方案供应商之一。我们在开发用于测量、分析和优化语音和音频质量的硬件和软件,以及客户订制解决方案和服务方面拥有专业的技术和开拓进取的精神,因此在电信领域获得全球认可。HEAD acoustics的服务范围涵盖技术产品的声音工程、环境噪声调研、语音质量工程、咨询、培训和技术支持。HEAD acoustics 位于亚琛附近,在中国、法国、印度、意大利、日本、韩国、英国、美国设有子公司,并在全球拥有众多销售合作伙伴。