High-Quality Testing Solution Meeting the 3GPP TS 26.131/132 Release 17 Requirements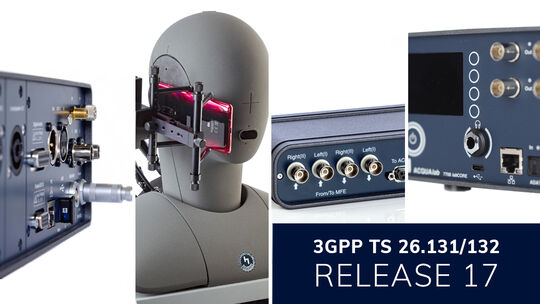 HEAD acoustics offers the only comprehensive, single-source test solution for Release 17 of the 3GPP specification TS 26.131/132 – the essential specification for audio quality in telecommunication.
The new release defines test methods and requirements for headset interfaces to ensure high audio quality even if the user does not operate the headset included in their phone's scope of delivery. It also adds an iterative procedure to determine the Ear Cap Reference Point (ECRP) for handsets with non-traditional earpieces, e.g., smartphones with under-display actuators.
Comprehensive and unique
With the handset positioner HHP IV, the headset interface box HIB I for analog connections, labCORE, and the labCORE extensions coreBT2 for Bluetooth® and coreUSB-DR for USB connections, HEAD acoustics is currently the only measurement technology manufacturer offering a comprehensive, high-quality testing solution for any headset connection.
For example, until now, devices with under-display actuators could not be measured according to the existing standard because, in that standard, the loudspeaker served as the reference point for clamping to the artificial head. The new process now includes many acoustic measurements at specific positions. The unique motorized HEAD acoustics handset positioner HHP IV is the ideal solution to conduct these measurements quickly, precisely, and reliably.
From a single source
HEAD acoustics harmonizes the components of its measurement and testing ecosystem perfectly with each other. Using such a single-source solution without additional third-party units provides reliable, high-quality results with unrivaled ease of use.
We make your testing real-life-proof – talk to us!
More information on the labCORE ecosystem
---
Documents
HEAD acoustics GmbH是全球领先的声音和振动分析解决方案供应商之一。我们在开发用于测量、分析和优化语音和音频质量的硬件和软件,以及客户订制解决方案和服务方面拥有专业的技术和开拓进取的精神,因此在电信领域获得全球认可。HEAD acoustics的服务范围涵盖技术产品的声音工程、环境噪声调研、语音质量工程、咨询、培训和技术支持。HEAD acoustics 位于亚琛附近,在中国、法国、印度、意大利、日本、韩国、英国、美国设有子公司,并在全球拥有众多销售合作伙伴。